Our friend Mark gave us for Christmas, December 25, 2019, a tour of London St. James's district, outlined by Piccadilly Street in the north, Green Park in the west, Mall Street and St. James's Park in the south and Haymarket Street in the east.
Our meeting point is a private club Royal Overseas League (Tonya once produced a concert, which took place here, by the way).  Thanks to the tour, we could come in and see the club.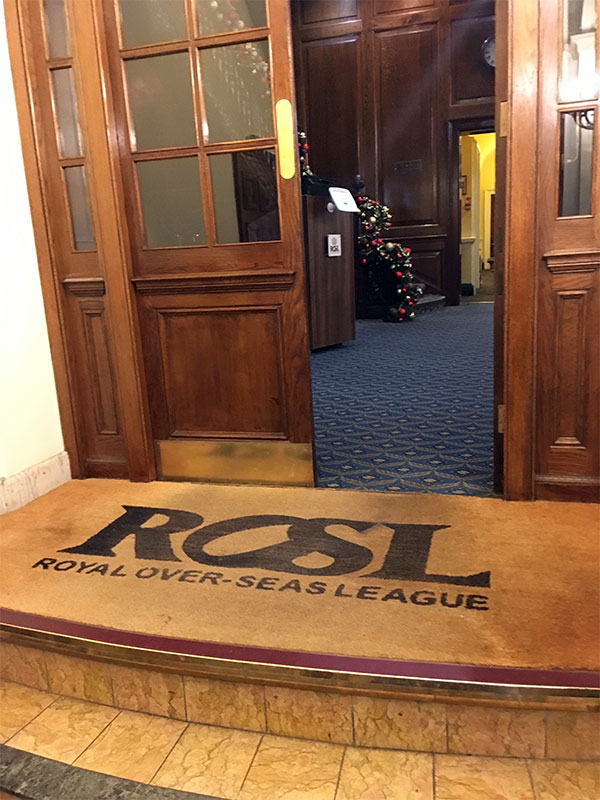 Queen and us: John, Anna, Bruna, Nina, George, Jess, Nilanjana, Kevin.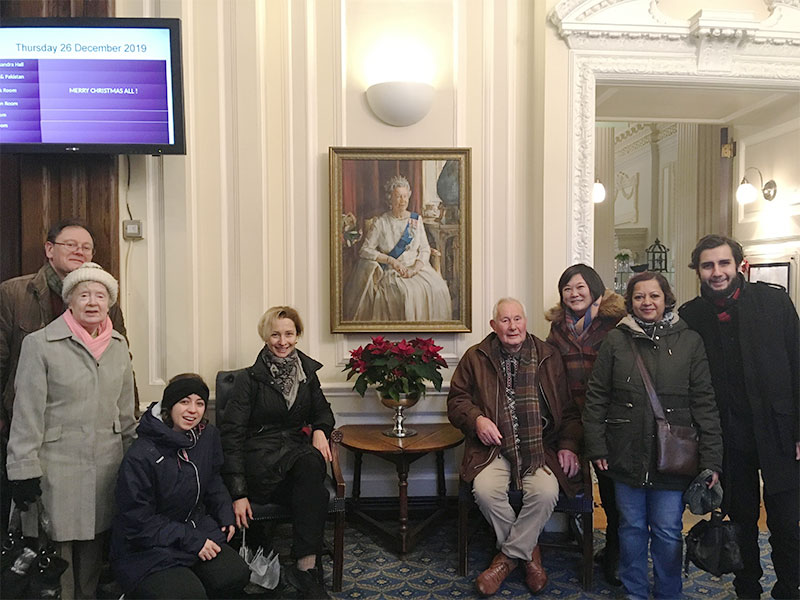 There is a couple of other clubs in London, still, to which women are forbidden to enter. Although sharply criticized, the clubs insist that they are private and follow their own rules. Some allow ladies whose husbands are in the club. And you can come with a mistress, too, if her husband is a member of the club, jokes Mike, our guide.
Property prices in the area, just to give an idea: a house in this courtyard, where the club is, was recently sold for 55 million pounds.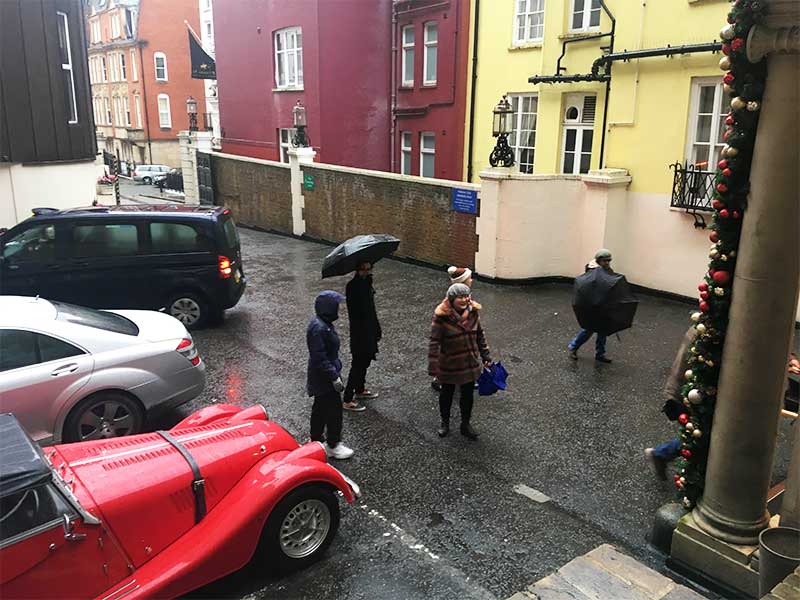 This is an Italian shop where pistols and other weapons have been sold for several centuries, but it is forbidden to show such goods in shop windows.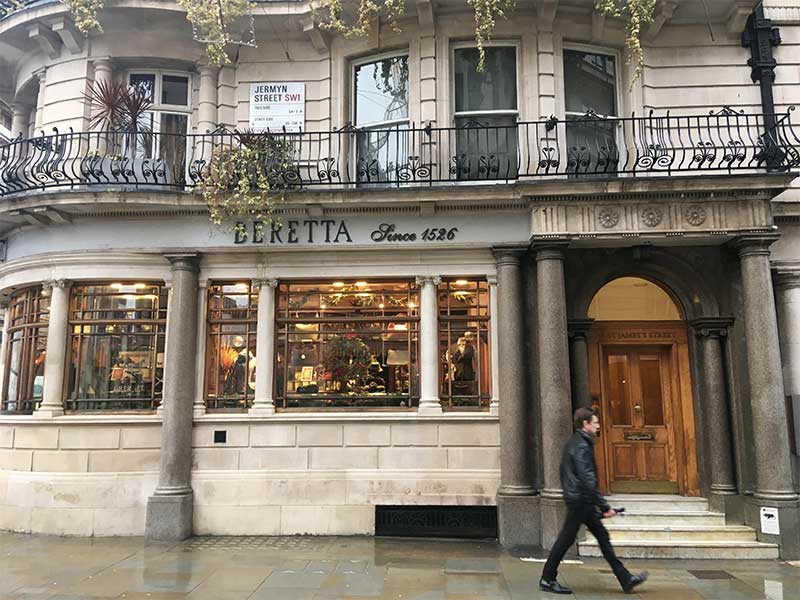 This is George Brummel, a dandy famous for the art of wearing elegant suits and impeccable white shirts, as well as beautifully tying his neck scarf. He, and other London fashionable men after him, began wearing trousers rather than knickers, and fixed the color line of men's suits for centuries. He embezzled a fortune inherited from his father, and died in 1840 from a venereal disease in Paris, where he was hiding from his creditors.  Another detail: unlike most contemporaries, he took a bath every day, so he could do without perfume.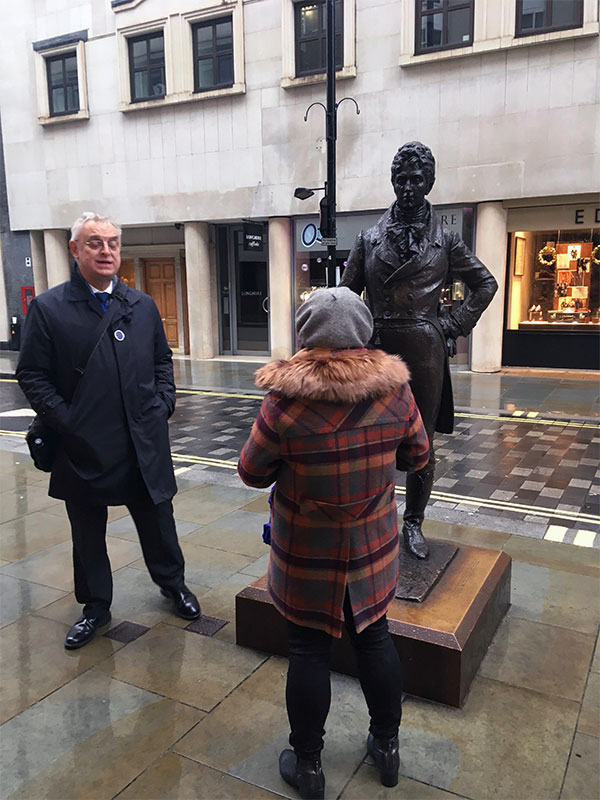 In this shop, Floris, according to Ian Fleming, James Bond used to buy his perfume.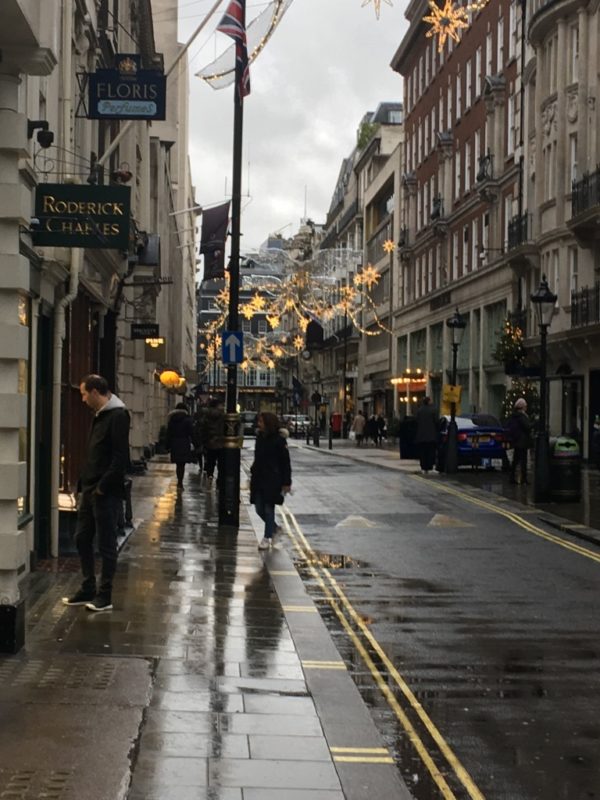 So much more beautiful, luxurious and fine things created by human hands, one finds here!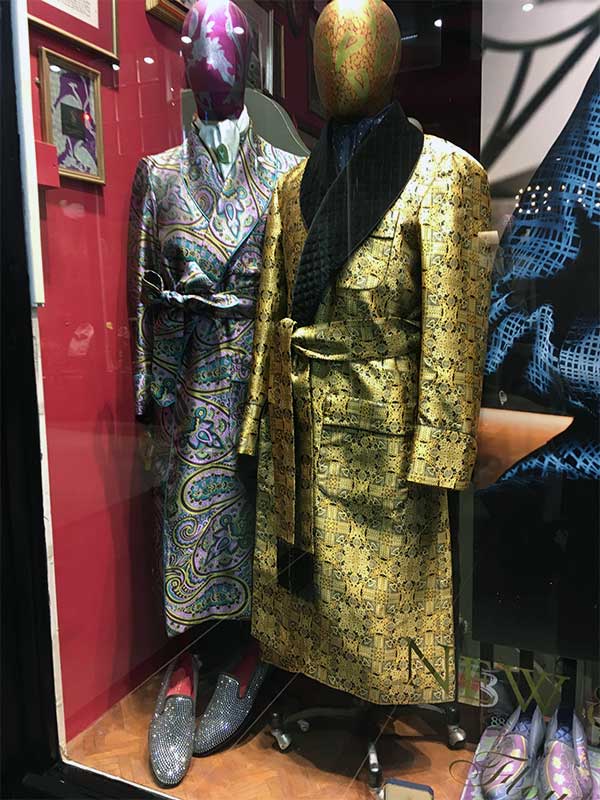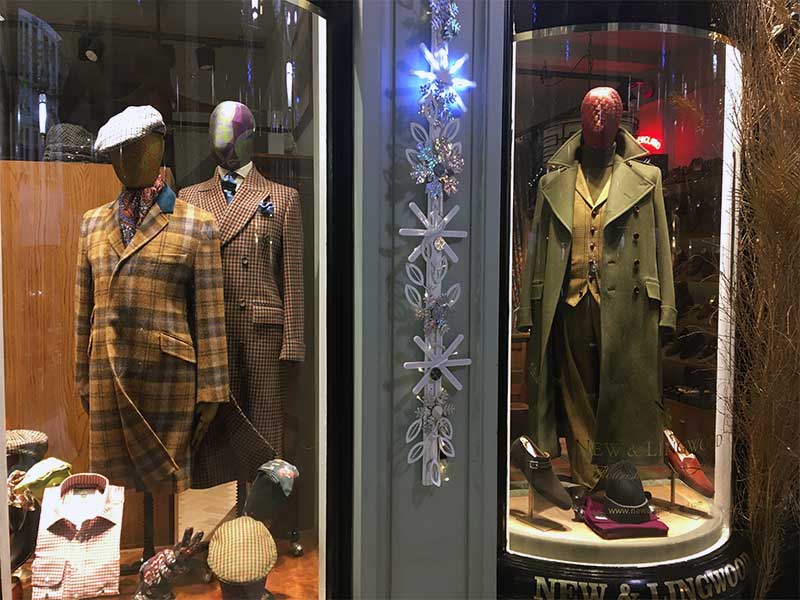 Lock &Co  is a famous hat shop.  They tailor hats, just like shoes at Lobb's, which is  next door. Prices are high, but things will be made to fit perfectly, and the shops will keep your measurements like they keep those of Princess Diana and many others.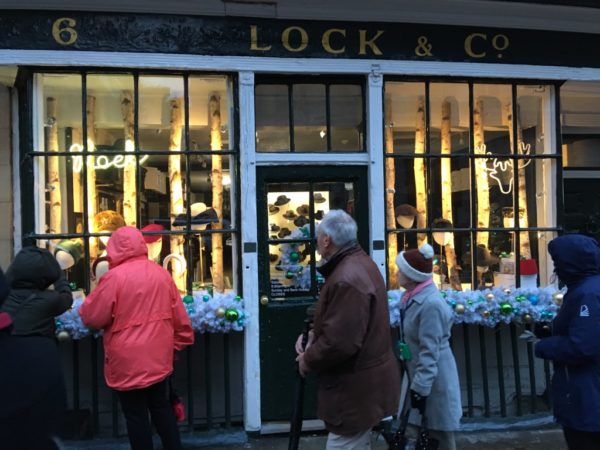 A little bit of local heritage: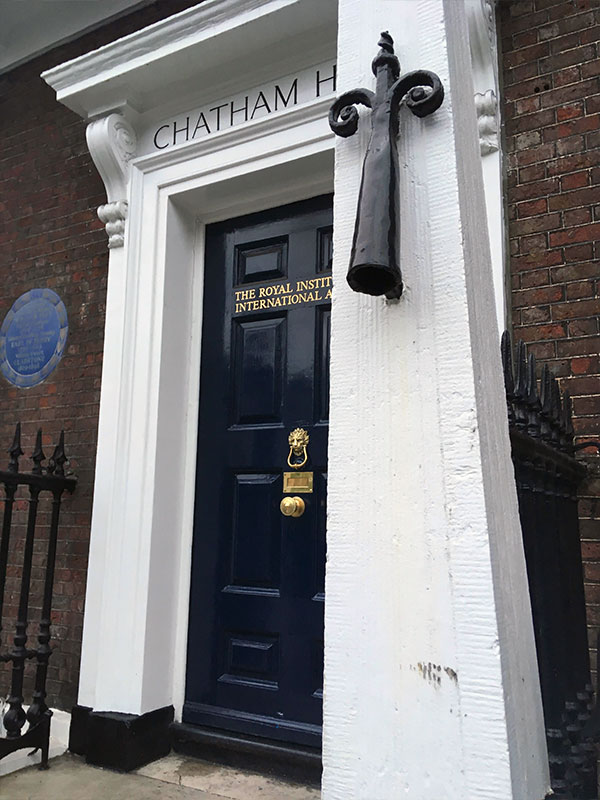 This "horn" on the right of the door was used to extinguish torches. Before the gas lights appeared on the streets, those who had to get home in the dark paid "lamplighters" who walked with oil lamps or torches.  The lamplighters would put the flame out once they brought a client home, to save the materials.
And here's a  gas lantern: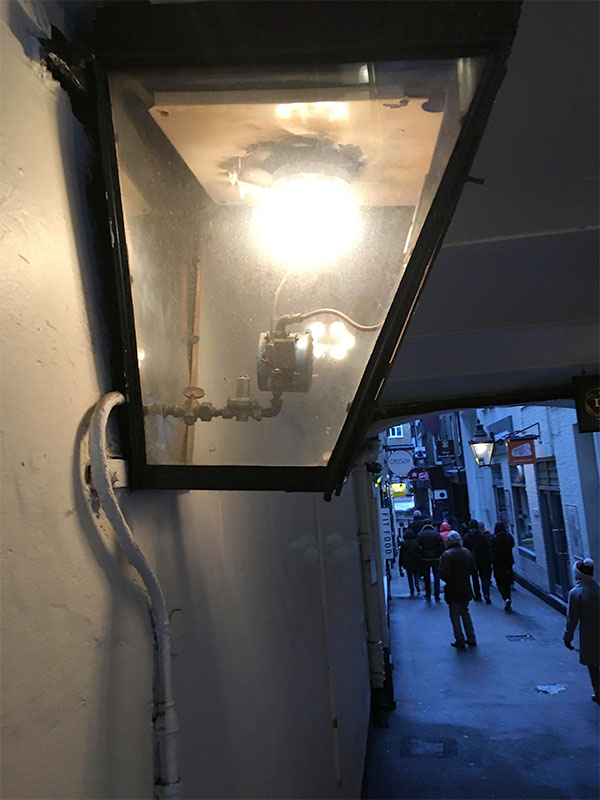 And this is the name of the street, which still has gas lanterns (but it is not the only one):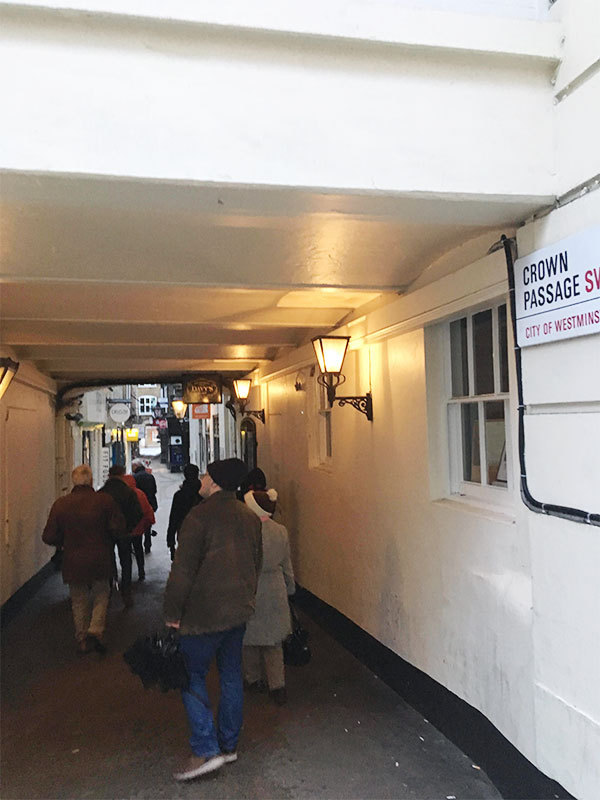 There are still smoked walls in this courtyard.  Such would become sand-coloured bricks when covered by soot coming from fireplaces where coal was burnt.  The whole of London was then cleaned, well, most of it, as we can see. These walls are smoked, not just grey and black bricks.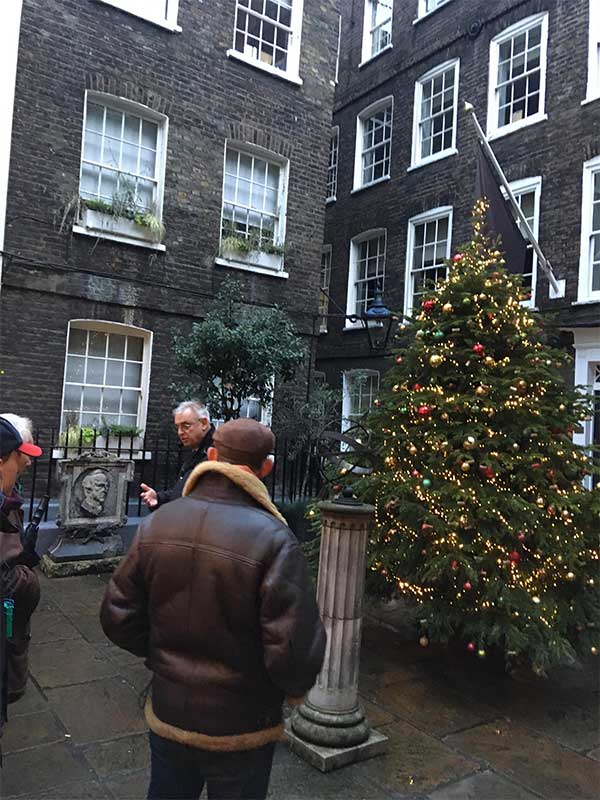 Palace of St. James, built by Henry VIII in 1531-1536 on the site of a leper hospital. It hasn't served as a royal residence since Queen Victoria, but the royal family uses the chapel.  And so the palace is home to different societies and offices.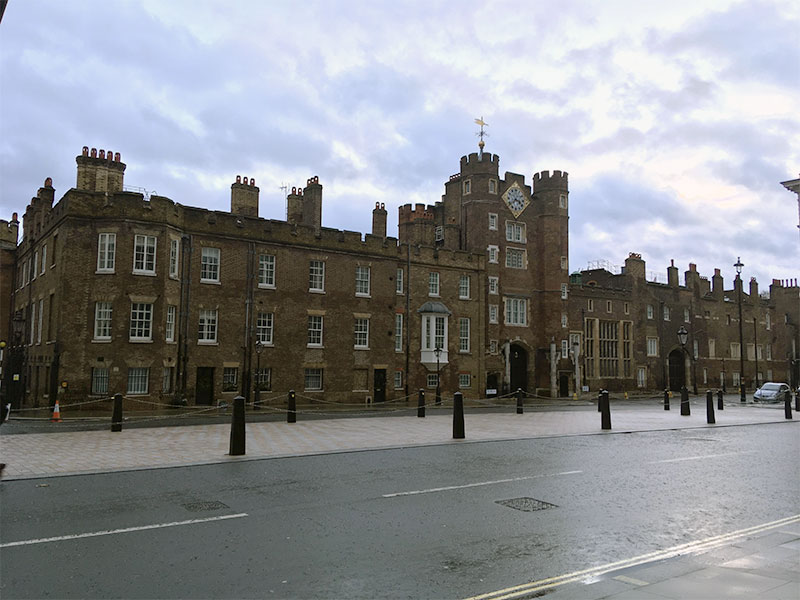 On the three names :
Yvon Fletcher, a British police officer, was on duty in the square outside the Libyan Embassy during a demonstration by Libyan dissidents against the Gaddafi government on 17 April 1984.  She was killed by a gunshot from the Libyan Embassy.  This was followed by a siege of the embassy and the breakup of British diplomatic relations with Libya. All Britons 50 plus, my friends said, know the name, it was on the news for quite a while after the events.
Nancy Astor became the first woman in the British Parliament in November 1919. (A year earlier, the Irish Republican Constance Markevitch had been elected to the House of Commons, but she had been imprisoned and could not participate in Parliament).
Lady Astor was born Nancy Witcher Langhorne in1879, in Danville, Virginia. She married a rich New Yorker at the age of 18, but during her honeymoon discovered that her husband was not, to put it mildly, the enemy of the bottle, so they began to live apart and six years later finally separated. For distraction, Nancy in 1905 went on a long journey to London, fell in love with England and remained there forever.  A year later she married Waldorf Astor, son of a major real estate owner and newspaper tycoon, owner of the influential Observer newspaper. The Astor dynasty also had overseas roots. Its founder, John Astor, began in the first half of XIX century with the fur trade, his son moved the business to London, achieved fame through charity and became lord and  viscount. In 1919, Waldorf Astor inherited the title of Lord from his father and automatically entered the House of Lords, losing his place in the House of Commons. Nancy Astor entered the fight for the vacant mandate in early elections and won thanks to the famous name and participation in charitable activities during the First World War.
She was given the most uncomfortable place, so the first female MP had to make her way in stepping over  her colleagues' legs.
She had been friends with Bernard Shaw for many years, although he had left-wing political views and she was a right-wing MP. The politician and the playwright, they shared a love of paradox and ironic attitude toward life.  In 1931, Shaw persuaded her to go to the Soviet Union with him. In Leningrad, guests stayed at the Astoria Hotel, built shortly before the revolution and named after the famous New York hotel belonging to the Astor dynasty. In Moscow, they were received by Stalin. Advising the Soviet leader to send a delegation to Britain to study the experience of kindergartens there (which was done), Lady Astor suddenly asked: "When will you stop torturing and killing your own people?" (There was a complete silence, and at first Stalin's interpreter refused to translate the question. Eventually Stalin answered – "As soon as it is no longer necessary for the protection of the state"). As far as it is known, Lady Astor is the only person who called Stalin a murderer to his face.  Many prominent tories were outraged by her visit to Russia, which they considered inappropriate,  whereas others shrugged their shoulders: what can you expect from an eccentric person?
The third name is Florence Nightingale.  On the photo below is the monument to the British soldiers and officers  who fought against Russia in the Crimean War.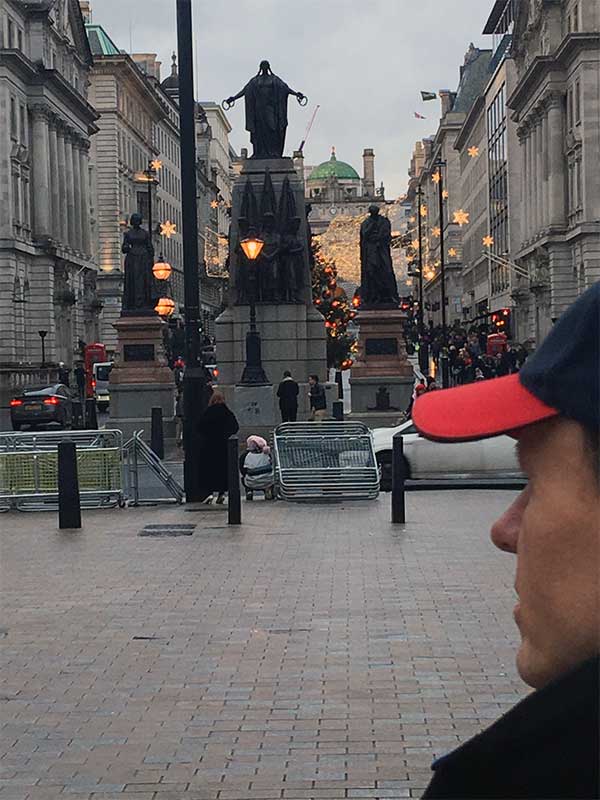 Florence Nightingale introduced  basic principles for the medical care of the wounded, and as a result, the mortality rate in British military hospitals  declined from 42% to 2%.
I'll stop there, though it's not the whole tour, of course.
And here's a picture from Pimlico Station. Such a model homeless person, reading a book on this day-off.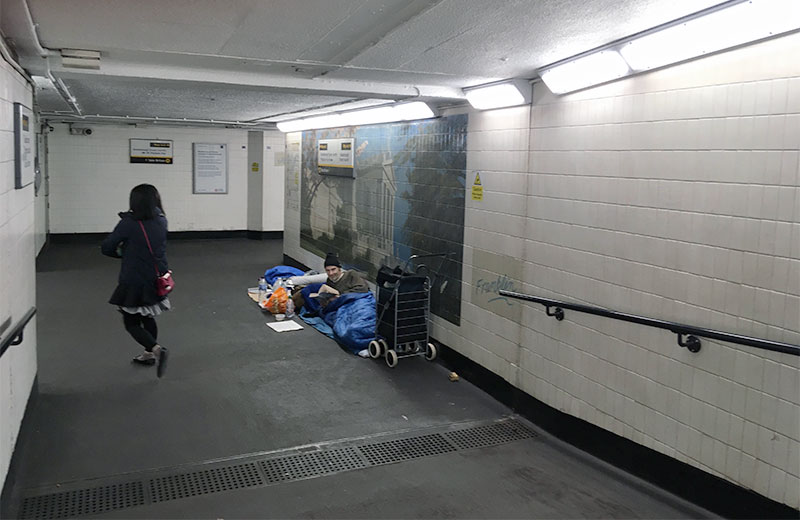 Pimlico station, December 25th, 2019